The CDC was somewhere I had set out to work at when I went to college and was a driving force in my choosing to be a microbiology major at UGA.
The roughly 5 years I spent supporting various CDC offices was an inspiring and challenging experience. It was an honor to work alongside some of the top public health professionals in the world in their battles against health crises at home and abroad.
COVID-19 Vaccine Task Force
2020 – 2021
Problem
The CDC COVID-19 Vaccine Task Force's Data Monitoring and Response (DMR) team is tasked with ensuring that the U.S. government has high-quality, near real-time data to monitor COVID-19 vaccine distribution, coverage, and uptake.
As the largest mass vaccination effort in history, the CDC needed support to scale immunization monitoring and assessment efforts with a focus on augmenting technology used at pharmacies to improve reporting to state and federal public health systems. The goal was to onboard as many pharmacy vaccine providers as quickly as possible and create consistency for reporting vaccine information to the CDC and enhance its data aggregation, synthesis, and visualization.
Role and Impact
Developed an IT system onboarding guide and data flows for new federal vaccine providers and clinics by consolidating dozens of disparate system guides and standard operating procedures (SOPs)
Created executive summaries for CDC leadership on the twelve COVID-19 Executive Orders and COVID National Strategy established in the first week of the Biden Administration.

Compiled quantitative analysis and visualizations for the White House on the demographic uptake of the Johnson & Johnson vaccine during the 10-day national pause of administrations

Wrote a daily newsletter synthesizing all COVID vaccine related headlines in the U.S. and around the world which was disseminated across the Vaccine Task Force.
Division of HIV / AIDS Prevention
2020
Problem
CDC's Division of HIV/AIDS Prevention (DHAP) provides national leadership and support for surveillance, prevention research, and implementation of evidence-based interventions for those affected by or at risk of HIV infection. Following the launch of the Ending the HIV Epidemic campaign in 2019 by HHS, CDC received nearly a 20% increase in funding for HIV prevention and research activities.
With close to $1 billion in federal funds to manage, DHAP needed help in modernizing its financial management tools to enhance the organization's ability to automate, standardize and collect financial and programmatic data, analyze its portfolio, plan and allocate its annual budget, prepare for emergencies, and monitor the execution of its budget throughout the year.
Role and Impact
Gathered and prioritized functional requirements for a new financial analysis tool, including organizing a JIRA Board with user stories and acceptance criteria to develop screen mock ups with UX designer
Developed graphics and Visio process flows to visually depict financial system connectivity, high-level purpose/user/system hierarchy, and information flow through user and systems

Built a Master Data Dictionary synthesizing four disparate IT system data dictionaries and System Requirements Specification (SRS) documents

Created and presented client-ready decks to walk through user stories, notional screen functionality, and developing click-through of screens with callouts to highlight specific functionality or flow
Populated weekly and monthly status reports as well as capturing and disseminating key action items during team and stakeholder meetings
Division of Emergency Operations
2019
Problem
CDC's Division of Emergency Operations (DEO) was in a constant state of activation for nearly 5 years in a row. Starting with the Ebola outbreak in West Africa 2014, the CDC has been responding to the Zika virus in the Americas, hurricane Maria in Puerto Rico, and then Ebola again in the Congo in 2019. Recognizing that emergencies are no longer "one-off" events, CDC wanted to re-think their approach to a new state of continual emergency responses especially when it came to financial resource management.
In partnership with CDC's Office of Financial Information Systems (OFIS), the CDC sought to develop a standardized strategic resource planning process to enable consistency across emergency responses and to modernize their legacy financial management and budgeting IT systems to align to this new agile emergency response structure.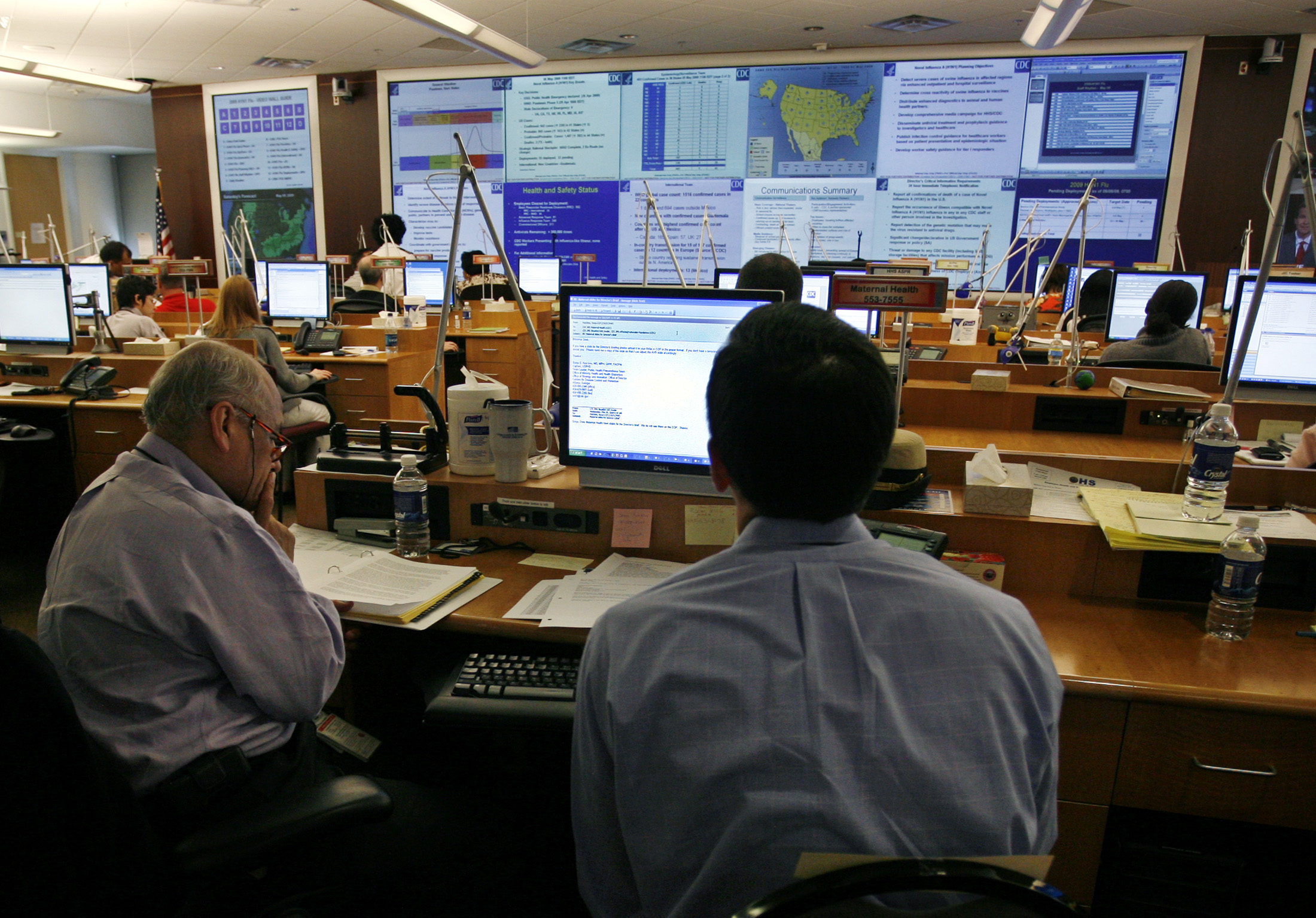 Role and Impact
Developed a financial management data visualization dashboard for the CDC CFO to identify how $5 billion in obligated Federal grants could be flexibly re-purposed to respond to unexpected public health emergencies.
Wrote workflows, tools, templates, and timelines to standardize resource planning processes, culminating in an agency-wide "Playbook" to execute resource management activities in an emergency response.
Designed communications messaging to disseminate and socialize the Playbook across the entire agency to assist in the 2019 Ebola response
Facilitated requirements gathering sessions with senior CDC emergency response leaders to document functional, technical, and reporting requirements for a future emergency response IT solution.
Developed demo use cases for COTS vendors (Oracle, IBM and OneStream) to present demos to CDC leadership and ultimately recommend a decision to purchase a financial management system
Office of Budget Services
2018 – 2019
Problem
CDC's Office of Budget Services needed technical expertise to support various business process improvements and budget tools used for budgetary formulation and execution, financial and accounting analysis, and budgetary compliance.
Role and Impact
Helped the CDC CFO's office manage $6 billion in unliquidated obligations (ULOs) on its balance sheet by working with SMEs across 12 financial departments to update a financial management guide and create an online training in Adobe Captivate.
Re-designed the CDC's labor distribution system including creating new process flows, defining roles and responsibilities, developing new fillable PDF template for agency-wide use, and developing training and communication materials.
Provided specialized support in financial and program analysis around budget resource allocation and analyzed financial and labor data to provide on-going financial reporting, and documentation of policies and procedures.
Developing a RACI framework for the budget office's re-organization to assist branch chiefs and team leads in assigning roles and responsibilities in the new workload structure
Center for Global Health
2018 – 2019
Problem
Given the global mission of CDC, millions of dollars are spent every year dispatching CDC resources across the globe to investigate, address, and train other nations in combatting public health crises. The Center for Global Health along with the Office of Financial Resources wanted to conduct a cost and efficiency analysis of the Global Travel Office (GTO) to determine how the global travel services including plane trips, hotel stays, and security details required by CDC can be provided in the most cost-effective manner.
Role and Impact
Assessed the current state of CDC's travel services, including analyzing financial travel data, understanding and summarizing key HHS and State Department travel policies, and conducting interviews with travel preparers and Federal Agency Travel Administrators (FATAs) across the agency.
Presented current state analysis findings to the CDC CFO and Deputy CFO along with recommendations for cost and organizational efficiencies.

Conducted project management activities including developing the project plan, communications materials, and quality check on all deliverables.
Office on Smoking and Health
2018
Problem
The CDC's Office on Smoking and Health (OSH), is the lead federal agency for comprehensive tobacco prevention and control. Since 1999, OSH has administered the National Youth Tobacco Survey which serves as the nation's baseline assessment of tobacco usage, behaviors, attitudes and beliefs among American middle school (grades 6–8) and high school (grades 9–12) students.
Since the inception of the survey, OSH has used a conventional paper-and-pencil survey which demands significant time, personnel, and resources to collect the data. This project represented the first attempt to conduct the survey electronically to provide accurate, reliable, and timely data about national youth tobacco usage. The goal is to transform the conventional paper-based survey mode to a sophisticated, state-of-the-art computer-assisted self-interviewing (CASI) survey.
Role and Impact
Communicated the purpose and method of this survey effectively to school staff and respondents.
Conducted the survey with courtesy, tact, polite assertiveness, and careful listening.
Collected data with objectivity and treating all the information gathered with complete confidentiality.
Facilitated travel logistics to middle schools and high schools in New Jersey, Kansas, New York, Colorado, and Georgia.
Maintained, configured, and trouble-shoot ~60 Apple iPads so they could be used to electronically conduct the survey.
Disability Health Branch
2017 – 2018
Problem
The Disability and Health Branch (DHB) in the National Centers for Birth Defects and Developmental Disabilities (NCBDDD) wanted strategic planning support in their effort to build a stronger Branch culture and refreshing their strategic plan.
The branch also needed provide grants management support to enhance their Performance Monitoring Tool (PMT) Database to better monitor and report on awardee performance.
Role and Impact
Gathered requirements for design and development of data collection templates in Word and Excel for monitoring and measurement of grant funding for 21 awardees.
Developed wireframes for a year-over-year "trend report" in Tableau for the Branch to better visualize and assess the impact of their grant money.
Validated updates in Microsoft Access to the Branch's Performance Monitoring Tool to better import and categorize awardee data.

Developed Branch-wide survey and interviewed CDC staff to assess a current state of Branch culture, team dynamics and day-to-day operations.
Facilitated a 2-day Branch-wide training focused on leadership development, improving Branch culture and organizing team functions around high-impact projects in the disability space.
Created a 3-Year Implementation Plan outlining individual team objectives, projects and milestones, aligning them to the Branch's strategic priorities, and validating the content with Branch leadership and team leads
Division of Violence Prevention
2017 – 2018
Problem
In the wake of the #MeToo movement and the growing awareness around the prevalence of sexual harassment, CDC's Division of Violence Prevention (DVP) within the National Centers for Injury Prevention and Control (NCIPC) wanted to conduct market research on the harassment/violence prevention policies of FORTUNE 500 companies. The goal was to understand how the largest employers in the U.S. train against harassment, provide protections for whistleblowers and create a set of recommendations for engaging the private sector on this issue.
Role and Impact
Coded and categorized the anti-harassment policies in the Codes of Conduct for fifty Fortune 500 companies
Web-scraped reviews on Glassdoor for the subset of 50 companies to assess employee-level feedback on work culture and environment and experiences when reporting harassment.
Created data visualizations in Tableau to identify sector-wide trends of which types of companies were most proactive in addressing harassment behaviors.
Presented final report of findings including message testing recommendations, partnership considerations, and guidance on sector-specific interventions
Wrote a point-of-view article on the project and its findings which was chosen as a winner in the Deloitte Federal Health Build-a-Blog Challenge.
Division of State and Local Readiness
2016 – 2017
Background
The Division of State and Local Readiness (DSLR) within the Center for Preparedness and Response (CPR) plays a critical role in administering the $617 million Public Health Emergency Preparedness (PHEP) cooperative agreement to assess and build state and local public health capacity.
DSLR wanted strategic planning support for program development, technical assistance, technology and data management, and workforce and organizational development to continue implementing the PHEP grant in conjunction with Assistant Secretary for Preparedness and Response (ASPR)'s Hospital Preparedness Program (HPP).
Role and Impact
Developed an organizational strategy for the Associate Director for Medical Countermeasures (MCM) including defining the office's mission, priorities, work lanes and deliverables.
Helped coordinate and organize the national Medical Countermeasure Workshop, including developing conference guidance packet, signage and logos, vetting presentation content and planning logistics for 62 awardee representatives.

Led the re-design of legacy process maps and creating new SOP guidance documents as part of standing up a new technical assistance (TA) workgroup to transition the legacy TA system into addressing a broader array of public health emergency preparedness capabilities.

Facilitated numerous meetings and trainings around PHEP grant alignment, grant application guidance and gathering requirements in updating the Division's grant's management online module.
Read More: